The Sweetest Dream - unity and dissonance in Europe
Reunion exhibition with allsopp&weir, Raffaella Crispino with Dragan Djordjevic, Nemanja Cvijanovic, Horkeskart, Tamás Kaszás, Anikó Lóránt and Nada Prlja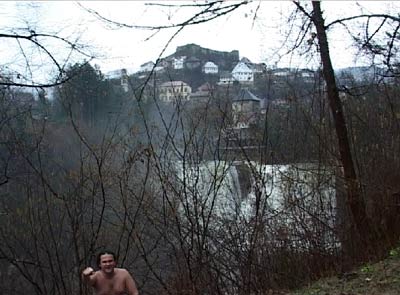 Image: Nemanja Cvijanovic 'Mantra' 2005.
Location: SPACE, 129–131 Mare St, London E8 3RH
Exhibition dates: 8–24 June 2006
Opening hours: Wednesday–Saturday, 1–6pm
Preview: Wednesday 7 June 2006, 6–8pm
Free Events:
Saturday 10 June, 2pm
United we stand? An afternoon of discussion with artists in The Sweetest Dream
Thursday 22 June, 6.30pm
Esperanto for beginners! Language class and discussion with Terry Page
The Sweetest Dream focuses on the pursuit of unity in Europe. Artists in the exhibition consider collective ideals and subvert cultural stereotypes through an installation, works on video and an off-site project. At The Sweetest Dream, a cacophony of voices, languages and nationalities converge.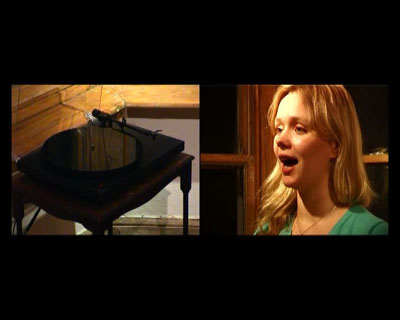 Image: allsopp&weir 'Call to Prayer'
Attempts to create kinship across Europe take diverse forms, from transnational cultural projects to efforts to control populations by redrawing borders. Nada Prlja's project 'Advanced Science of Morphology' (2006) which presents 26 combinations of the five national flags of the states that once made up Yugoslavia. Prlja's flags create distorted national identities, reflecting the impossibility of drawing clear distinctions in such contested territory.
Singing together, be it national anthems or union songs, connects people while spreading political ideals. A series of video works in The Sweetest Dream capture the desire to sing from the same song sheet across national and cultural boundaries. In 'Learning Freedom' (2005) we watch Dragan Djordjevic attempt to teach Raffaella Crispino how to play 'Think' by Aretha Franklin with no common language between them. The painful process of learning an unknown piece of music is echoed in allsopp&weir's video 'Call to Prayer' (2005) in which a classically trained female singer learns to sing the Islamic call to prayer from a record.

The invention of Esperanto hoped to overcome our communication barriers and to create understanding across borders. Tamás Kaszás and Anikó Lóránt will install 'Shelter of Hope' an Esperanto classroom constructed from locally found materials. During the exhibition, the public can access information and resources gathered by the artists as well as take part in a free Esperanto class.
The Sweetest Dream brings together artworks that criticise and celebrate attempts at unity and invite us to reflect on the roles we play in making and breaking dreams of European togetherness.
The Sweetest Dream is the title of an artwork by Nemanja Cvijanovic that re-works the EU flag.