Sifting and Sorting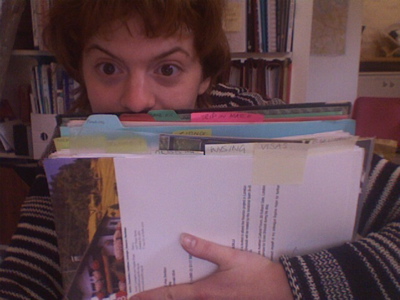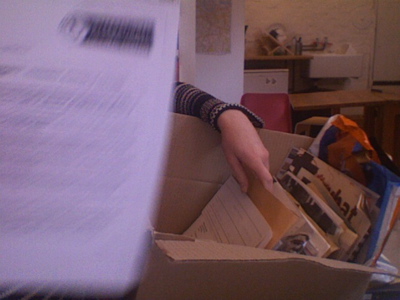 Filing. It is what interns do. But this is Reunion, so a creative attitude is encouraged in such things. I am an art student, hence an intern, hence filing, hence reflecting on this filing. I am in the reflexive position of filing past events of Reunion projects/process/progress, whilst also blogging this, and adding to it.
(For a fascinating, though maybe depressing novel on "Sifting and Sorting" to the point of madness, see Austrian novelist Thomas Bernhard's Correction. However - I shall endeavour to keep mine a light hearted affair!)
http://en.wikipedia.org/wiki/Thomas_Bernhard
Nestbeschmutzer…another possible analogy for local political art activity?...
Having a dig around. My other part time job is as a gardener, so I am used to dealing with a complete chaotic growth of stuff, that has to be ordered, in some manner. weeding and sweeping and litter picking and pruning. This time, tho, the probable aim is to decide what is weeds, and encourage their growth.
From the carboard box of stuff, the beginnings of a Reunion archive of "related" material, I come across a very seductive 1974 picture history book on Belgrade. The collage on the front cover promises an intriguing conglomerate of old and new architecture. In the back page I find a contemporary photograph, demonstrating the still flourishing artist's quarter of the city.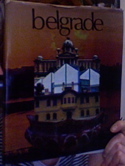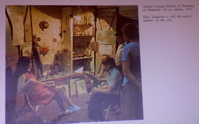 I try to search the web for more current evidence of this. I come across Skadarlia BBQ, a Serbian restaurant in Plovdiv, Bulgaria. (I visited Plovdiv a couple of summers ago, when an exciting contemporary arts festival was going on around the city). In the Belgrade Skadarlija, Serbia, it seems much of the 'bohemian' quarter has now been transformed into restaurants too. There is a theatre that I find that some American charity called the "circle of hope" funded Serbian kids to go visit, along with a shopping trip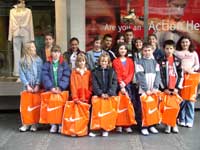 hmm.
anyway,
am considering ways of filing..possibly by alphabetical order of location of event?...